The 18th International Exhibition on Textile Industry (hereinafter as "ShanghaiTex 2017"), one of the world's most prestigious textile machinery exhibitions, was successfully concluded on 30 November, 2017 at Shanghai New International Expo Centre, Pudong, Shanghai, PR China. The show demonstrated new materials, technologies as well as applications from worldwide textile machinery manufacturers, enormous crowds of exhibitors and visitors from around the globe were enthusiastic participating. The 4-day show (27 – 30 November) attracted 65,399 local and international trade visitors and buyers from 79 countries and regions visiting, 10% of them were overseas buyers.

Top-notch Exhibitors Showcased Up-to-date Intelligent Machinery
With the theme of 'Textile for Smarter Future', ShanghaiTex 2017 focused on the latest sustainable technologies as well as, for the first time, innovative cross-industry applications which can assist textile industry players to achieve breakthrough and advance into the Industry 4.0 era. Devoted to creating a platform for networking and trading, ShanghaiTex 2017 was widely supported by recurring and new exhibitors including Groz-Beckert, Santoni, XinGang, JinLong, Fong's National Engineering, Mouvent, Reggiani, Atexco, JiLong, Yoantion, YingYou, China Textile Machinery, Savio, Truetzschler, Pacific Mechatronic Group, HaoChang, Guangye, Jingda, Bosch Rexroth, Contitech, Changshu Textile, YongXuSheng. Over 1,200 exhibitors from 26 countries and regions presented their latest machinery, equipment, as well as innovative ideas onsite. Exhibitors highly appreciated the professionalism and business value of ShanghaiTex 2017, below are some testimonials from exhibitors:

Mr. Gianpietro Belotti, CEO of Santoni (Shanghai) Knitting Machinery Co., Ltd. mentioned, "ShanghaiTex is the best venue for us. They always find ways to innovate the way we present at the event and open the door to many important clients and new buyers all over the world."

Mr. Siwei Zhang, General Manager of Jiangsu Yingyou Textile Machinery Co., Ltd. indicated, "ShanghaiTex is a key channel assisting us to grow strong. For so many years, we gained a lot of revenue and publicity from the fair. In addition to China, it also helped us to establish a very good international reputation."

Mr. Paul Yuen, Consultant of DTS (Mouvent, Ergosoft & DDT) praised, "ShanghaiTex is a very professional exhibition. Especially in recent years, the organizer has conducted many thematic concurrent events that stimulated discussion and development throughout the industry. These events successfully attracted many high caliber visitors to the fair."

Industry Buyers Gathered with Satisfactory Feedback
ShanghaiTex has always been under watchful eyes of the international textile industry. This year by the invitation of show organizers, over 60 professional associations and 550 enterprises have visited ShanghaiTex for industry communications and purchasing. The show has also won affirmation and support of 19 overseas delegations from Taiwan, Thailand, Korea, Malaysia, India, Indonesia, Sri Lanka, Pakistan and Bangladesh etc.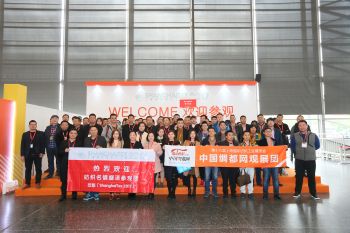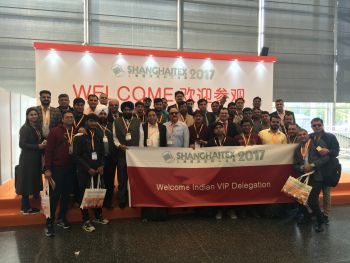 Part of the endorsement from associations and buyers as follow:
Ms. Jin, Deputy Secretary General of China Haining Socks Association expressed their satisfaction and supports towards the show. It's the first time for the association to visit ShanghaiTex and they are impressed by the large-scale and full range of equipment. Their members mainly focused on hosiery and packaging machinery, and many of them have placed order on-site. It was a fruitful visit to the association and they will come again for next edition.

Ms. Kong, Equipment Department Assistant Manager of Guangdong Esquel Textile Co., Ltd. is very satisfied with the exhibitor quantity of the show, as well as many upgraded services provided by the organizers. They are eager to see more exhibits and equipment in next edition.

Mr. Zhao, Senior Engineer of ANTA R&D Department has seen a lot of digital printing equipment on-site, and got to learn more about solutions on rapid sampling to enhance production efficiency. He specially visited some high-precision and high-layering printing products that can be used for corporate sponsorships, customized production to enhance the brand image.

Mr. Ade Sudrajat, Chairman of Indonesian Textile Industries Association said, "ShanghaiTex has a wide range of exhibits and exhibitors originating from numerous countries. It gives an excellent opportunity to our delegates to better understand textile machinery technologies and trends. Our members are able to discover new perceptions to enhance production efficiency."

Mr. Tony Taylor, Plan A Consultant of M&S shared his first experience in visiting textile machinery show, "My first impression on ShanghaiTex is fantastic, the show is quite interesting. In fact I think M&S should make it compulsory for the relevant staff to come here. Garment production includes different processes from yarn to fabric dyeing and finishing, so the technicians and designers can understand more about the advantages and limitations of the adopted machine for production. I think ShanghaiTex is really important and we should have found and visited it earlier."

Mr. Fred Liu, Manager of Taiwan Yao I Fabric Co., Ltd. considered ShanghaiTex 2017 a fruitful trip. They are manufacturer of industrial fibers and have already placed order of around USD 270,000 on Doanier for a rapiers looms machine.

Explore Business Opportunities in Trend-setting Concurrent Events
A series of conferences and thematic showcases were held concurrently with ShanghaiTex 2017, including: "Textile Industry 4.0 Forum" and "The Sports Bra-ology" on 27 November; "Smart Textiles Innovation Forum", "Buyer's Forum : MARKS & SPENCER- Plan A 2025" and "Eco-Denim/Finishing Forum" on 28 November; "Digital Printing Trend Forum – Conclusions and Innovation" and "The Evolution of Sports Shoe Tech" on 29 November; as well as the "Sports Arena" and "Smart Factory & C2M Experience Zone" showcasing cutting-edge technologies of smart textiles, wearable technology, 3D printing and 3D fitting etc. All these activities were close to the forefront of the industry, addressing the latest technology applications in functional textiles, which contributed to the creation of innovative solutions for textile industry.

Dato' Sri Tan Thian Poh, CEO of Siang Poh Group of Companies spoke highly of the seminars, "I used to attend different trade shows once per month in China, India, Korea, Taiwan, etc. Compared to the other shows that I have attended, I found the concurrent event speakers from ShanghaiTex are quite good as the organizers have invited CEO, Chairman and Business Owners to share their insights and experiences to industry players which are really worth attending."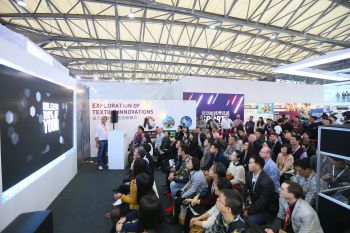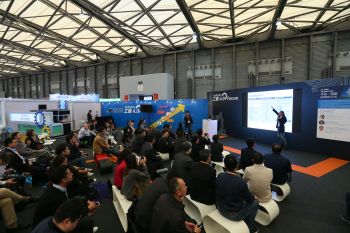 Stay Tuned for ShanghaiTex 2019
ShanghaiTex is sponsored by Shangtex Holding Co. Ltd, China Council for the Promotion of International Trade Shanghai Sub-council and China Chamber of International Commerce Shanghai Chamber of Commerce; and is organized by Adsale Exhibition Services Ltd, Shanghai Textile Technology Service & Exhibition Co. Ltd. and Shanghai International Exhibition Co. Ltd. ShanghaiTex is held biennially in Shanghai, we look forward to seeing you again in November 2019!

For more details, please visit ShanghaiTex Official Website www.ShanghaiTexOnline.com or the show's official social media platforms.

-------------------- End ---------------------